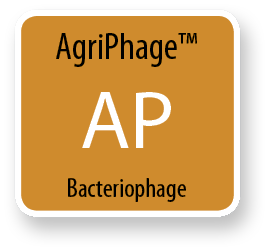 OmniLytics, Inc. announces today that the EPA has approved two new bacteriophage products AgriPhage™-Fire Blight and AgriPhage™-Citrus Canker for the control of their namesake diseases. Certis USA, OmniLytics' marketing partner in the U.S., will launch these products in 2019 for use by growers of apple, pear and citrus crops.
Both AgriPhage products are based on bacteriophages ("bacteria eaters"), naturally occurring organisms that infect and kill only targeted bacteria. Phage treatment is a unique mode of action presenting a highly desirable option for management of bacterial diseases of crop plants. The surgical precision with which bacteriophages target only their host bacteria presents extremely low risk to users, beneficial species and the environment. Additionally, bacteria that have developed resistance to antibiotics, copper or other bactericides remain susceptible to bacteriophage infection. AgriPhage products are exempt from residue tolerance and Maximum Residue Limits (MRLs), have only a 4-hour re-entry interval (REI) for farm workers and are NOP approved for use in organic agriculture. Certis USA already markets AgriPhage products from OmniLytics for control of bacterial diseases of tomatoes and peppers.
Ryan Benson, Director of U.S. Sales and Marketing for OmniLytics, said, "We're very excited to offer these two new products to help pome fruit growers and citrus growers prevent and control these devastating diseases while reducing the use of traditional antibiotics. As the world's leading provider of agricultural bacteriophage treatments, we feel a duty to provide the grower community with a safe, organic and effective tool to fight bacterial disease."
Dr. Michael Dimock, Certis Vice President of Field Development, said, "The advent of phage therapy for fire blight in apples and pears is especially timely. The use of antibiotics against this disease has come under increased pressure due to resistance in the causal bacterium (Erwinia amylovora) and global movement to restrict or reduce use of antibiotics in crop protection. While these AgriPhage products can perform as stand-alone blight or canker treatments, the long-term value to citrus and pome fruit growers is their utility in resistance management programs to extend the effectiveness of antibiotics and other tactics. We are excited at the opportunity to integrate AgriPhage into programs with our other management tools Double Nickel®, Cueva®, LifeGard® and Kocide®-O targeting these diseases at different stages of crop development."
About OmniLytics
OmniLytics, Inc. is a biotech company that is pioneering the research and development of bacteriophage solutions for the control of pathogenic diseases that affect the agricultural, food safety and animal health markets. OmniLytics seeks to change the way the world treats bacterial diseases. Located in Sandy, Utah, OmniLytics is a wholly owned subsidiary of Phagelux, Inc., headquartered in Shanghai, China. For more information on Phagelux, Inc. and OmyniLytics, Inc. please visit www.phagelux.com and www.omnilytics.com.
###
About Certis USA
Headquartered in Columbia, Maryland, Certis USA is a leading manufacturer and distributor of a broad line of biopesticide products for specialty agricultural and horticultural markets and the home and garden market. Certis USA products provide valuable solutions by meeting the challenges faced by today's growers. For more information about Certis USA, visit CertisUSA.com and follow the company on Facebook, Twitter and LinkedIn.