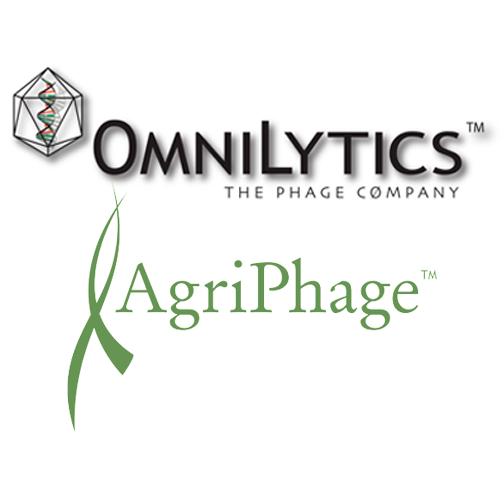 COLUMBIA, Maryland, JUNE 7, 2018—In a move that will provide U.S. growers with new combinations of bacterial disease control products, OmniLytics, Inc., a subsidiary of Phagelux, Inc., has entered into an exclusive U.S. sales and marketing collaboration with Certis USA, LLC for its AgriPhage line of biopesticides. The collaboration is expected to introduce new products for the control of fire blight and citrus canker and to expand distribution of a bacterial spot and bacterial speck product in fruiting vegetables.
The active ingredients of OmniLytics' AgriPhage products are bacteriophages, known in layman's terms as "bacteria eaters." Bacteriophage-based products are highly desirable solutions for bacterial diseases, because of their environmentally friendly profiles and because of the resistance bacterial diseases have developed to traditional disease control products. Coupled with Certis USA's biopesticides, the new bacteriophage products will provide new tools for disease control in crops.
Ryan Benson, Director of U.S. Sales and Marketing for OmniLytics, said, "We are highly encouraged that one of the leading U.S. crop protection companies now represent us with its national sales force and is collaborating with us to create new phage-based crop protection products."
Jim Black, Director of Business Development for Certis USA, LLC said, "We are excited to work with OmniLytics. The AgriPhage line of crop protection products is novel and innovative. Plus it allows for the protection of crops in areas where existing treatments are starting to fail due to bacterial resistance and the results are falling short of grower expectations. Certis USA offers growers a suite of bacterial control products that can be integrated with the AgriPhage line to maximize protection from these difficult-to-control pathogens."
OmniLytics' products are bacteriophage mixtures. Phages are highly specific and only kill a particular species of bacteria. They are of low risk to other "good" bacteria, beneficial micro flora or fauna. As a result, the company's products provide viable alternatives to synthetically produced chemicals that can leave behind unfavorable residues. OmniLytics products are exempt from Maximum Residue Limits (MRLs), have only a 4-hour re-entry interval (REI) for farm workers, and are NOP approved for use in organic agriculture.
The Certis USA bacterial-based fungicides and bactericides expected to be integrated with OmniLytics AgriPhage product line include Double Nickel 55®, a preventive biopesticide used for control or suppression of fungal and bacterial diseases found on the foliage and in the soil. Cueva®, a low-load copper fungicide is available, as well as the Kocide® family of copper fungicide products. Especially of interest is Certis USA's newest product offering, LifeGard™, the first biological plant activator to manage fungal and bacterial diseases.
About OmniLytics
OmniLytics, Inc. is a biotech company that is pioneering the research and development of bacteriophage solutions for the control of pathogenic diseases that affect the agricultural, food safety and animal health markets. OmniLytics seeks to change the way the world treats bacterial diseases. Located in Sandy, Utah, OmniLytics is a wholly owned subsidiary of Phagelux, Inc., headquartered in Shanghai, China. For more information on Phagelux, Inc., please visit www.phagelux.com.
###
About Certis USA

Headquartered in Columbia, Maryland, Certis USA is a leading manufacturer, innovative developer, and marketer, of a comprehensive line of distinctive and proven biopesticide products sold in more than 40 countries today for use in specialty agricultural, horticultural and the home and garden markets. Certis USA products provide essential solutions by meeting the challenges faced by today's growers around the globe. For more information about Certis USA, visit CertisUSA.com and follow the company on Facebook, Twitter, LinkedIn and Instagram.