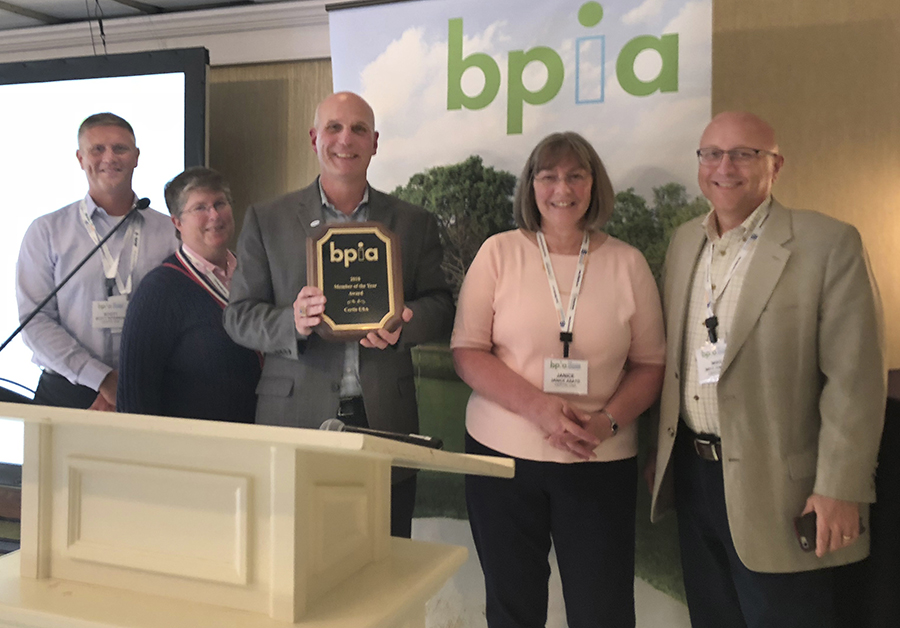 Left to right: Scott Peterson, Karen Warkentien, Tim Damico, Janice Asato, and Mike Dimock.
The biopesticide company Certis USA was named Member of the Year by the Biological Products Industry Alliance (BPIA) today. Certis USA is charter member of the 15-year-old organization. The company was cited as a member company that has made many contributions to the association that promotes the responsible development of safe and effective biopesticides and biostimulants used in agriculture, public health, PCO, turf and ornamentals and home gardening.
Certis USA is a leading manufacturer and distributor of a broad line of biopesticide products and encourages its staff members at every level to participate in BPIA. Certis USA representatives serve on the BPIA Board of Directors and the Regulatory, Communications, Specialty Markets, Meeting Planning and Government Affairs committees. Certis USA frequently sponsors BPIA meetings, presents at and participates in multiple trade shows nationally to educate people about biopesticides and to identify new members and sponsors on the organization's behalf.
Longtime volunteer Tim Damico, Certis USA Executive Vice President-North America, accepted the award at the BPIA fall meeting in Rochester, New York. "Certis USA is fully committed to BPIA and the biological products industry. On behalf of the many Certis USA employees who contribute to BPIA, we are proud to have received this award," Damico said.
Keith Jones, BPIA Executive Director, said, "Certis USA is an excellent example of a company that has encouraged its employees to contribute to an industry association that directly adds value to their business."
###
About Certis USA

Headquartered in Columbia, Maryland, Certis USA is a leading manufacturer, innovative developer, and marketer, of a comprehensive line of distinctive and proven biopesticide products sold in more than 40 countries today for use in specialty agricultural, horticultural and the home and garden markets. Certis USA products provide essential solutions by meeting the challenges faced by today's growers around the globe. For more information about Certis USA, visit CertisUSA.com and follow the company on Facebook, Twitter, LinkedIn and Instagram.